Fuel Loaded Into Iranian Nuclear Power Plant
NTI Newswire

23 Aug 2010| Link to the original article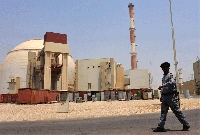 Iran's sole atomic energy plant on Saturday began receiving nuclear fuel, a major step in bringing the long-delayed facility online, Reuters reported."Despite all the pressures, sanctions and hardships imposed by Western nations, we are now witnessing the startup of the largest symbol of Iran's peaceful nuclear activities," said Iranian atomic energy chief Ali Akbar Salehi. The United States and other nations suspect Tehran's nuclear program is aimed at developing a weapons capability, a charge vehemently denied in Iran

 
A total of 163 fuel assemblies are to be installed within the facility's reactor core in the next two weeks, the Associated Press reported. Electricity production would begin two months later. "Not a single professional in the world has any questions about the chance that the Bushehr nuclear power plant could be used for nonpeaceful purposes," said Sergei Kiriyenko, head of the Russian state-run atomic energy firm Rosatom, who was on hand for the fueling.

The U.N. nuclear watchdog on Saturday said it "regularly inspects the Bushehr Nuclear Power Plant in Iran," AFP reported. "The agency is taking the appropriate verification measures in line with its established safeguards procedures," which are intended to prevent civilian atomic sites from supporting proliferation, said IAEA spokesman Ayhan Evrensel.

Meanwhile, Tehran also rolled out what was said to be its first drone bomber, Reuters reported. The Karrar system can fly as far as 620 miles at speeds reaching 560 mph, according to state television. It reportedly could carry four cruise missiles, or a load-out of either two 250-pound bombs or a single 500-pound bomb. "If there is an ignorant person or an egoist or a tyrant who just wanted to make an aggression then our Defense Ministry should reach a point where it could cut off the hand of the aggressor before it decided to make an aggression," Iranian President Mahmoud Ahmadinejad said at the unveiling ceremony. "We should reach a point when Iran would serve as a defense umbrella for all freedom-loving nations in the face of world aggressors," he added. "We don't want to attack anywhere, Iran will never decide to attack anywhere, but our revolution cannot sit idle in the face of tyranny, we can't remain indifferent."

Iran regularly warns Israel and the United States against attacking its nuclear facilities. Such a strike would be "suicidal," Ahmadinejad said.

Iranian Defense Minister Ahmad Vahidi also said Friday the nation had conducted a test launch of a new ground-to-ground missile, AFP reported. He did not offer details on when the test had occurred or how far the Qiam missile could fly. "The missile has new technical aspects and has a unique tactical capacity," Vahidi said of the "new class" weapon. "Since the surface-to-surface missile has no wings, it has [a] lot of tactical power, which also reduces the chances of it being intercepted," he added.

Issue specialists are generally skeptical of Iran's claims regarding its military capabilities, the Los Angeles Times reported. The nation's annual military spending barely exceeds $10 billion, an amount dwarfed by the U.S. defense budget.

Tehran, though, could use friendly militant groups to carry out strikes aimed at causing a significant number of deaths and injuries and at pulling the United States into an unwanted armed engagement.